Tuesday, February 28, 2006
Bold and the Beastly... part 1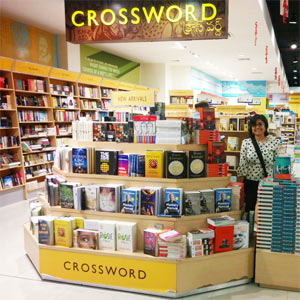 Anusha Darling in my comments has made the interesting point that ... u can always meet ur kinda ppl in and around mumbai ..
its true and i shud know .. i met the freakiest kinda ppl and also the nicest ... lemme tell u this story ... i used to work for Crossword, the book store .. and it basically killed every kind of social life i cud've had after college. why...?

simple answer ... i worked weekends ... yep .. saturday and sunday when "normal" ppl slept and yawned and took an hour just to stretch ... i had to arrange books, look after my stocking levels .. manage my manager and handle the goings and comings of 15 odd "bachchas" who worked wit me ..

not so say there werent any perks .. i got to read books all for free .. and it was a great life.i worked there for 2 years and in that time i was effectively cut off from the real world, cos when i had my chutti (thursdays) the rest of the world worked .. and as mentioned before ... i worked while they slept.

so no hanging out wit friends, no movies, no dinners, no lunches, no time for long fone calls either... and therefore, whence and thereby.. no close friends except those who worked wit me ... and consequently ... not much to talk bout in our free time except about work!!! argh !!! it was tragic!!!

the worst part was missin out on my niece's childhood ... cliched only cos its o, so true !!.. i never got to go to their open houses .. i never went to any of their school functions or sports days .. i even missed my youngest niece's first birthday!!

that was what made me decided i needed much more out of my life!! and then finally i left crossword and entered the wonderful, beautiful world of WEEKENDS OFF and offices that work from 9-5 !!!!

for a person who hardly ever got to see her parents cos she came home only when they were asleep ie.after 12 ... this was a whole new world ... i cud meet my nieces atleast once or twice a week, i cud visit their school functions once in a while .. i cud actually meet my friends whenever i wanted !!!

but now i saw an even bleaker picture in my future ... wanna know why ... read more in the next episode of The Bold and the Beastly !!!!
posted by Ipshi @ 4:33 pm


about me
Name: Ipshi
Location: Dubai, Dubai, United Arab Emirates
It is only in my 30s that I have realised I will never be the elegant lady who can wear white without spilling something on it. I recognise my blessings like my family, my friends & my job & I am letting go of my fears of writing & just jumping in. I love my job. It has given me the opportunity to live in a city where I am surrounded by the most amazing friends in the world & the most surreal experiences. It also gives me the opportunity to read great books & travel to fascinating new countries. Join me as I share these with the world.
My fotos
My mood right now
My Oniomania
Links
Rambles in days gone by
Months of blah
Template by