The Golden Gate Bridge!!! fotos do the talkin!! and u ppl better not expect any of those pics of the bridge that u can see just anywhere!!
Best place to go to check out the view is the Fisherman's Wharf where u can get horse drawn carriages and pedicabs to roam around in luxury.
Crissy Field which according to the area's site is "100 acres of wild, windswept shoreline are a favorite pla
ce for walkers, joggers, boardsailors, bicyclists, thousands of birds and the occasional seal".
when can something like this happen for our very own borivli national park ?? it needs a web site too .. but more than anything else .. it -like any other indian institution- needs u
n-corrupt ppl working there!!

For great views u must check out the Coit Tower and Corona Heights. San Francisco has all kinds of museums from the
Center for the Arts at Yerba Buena Gardens

, to the kid-friendly Cartoon Art Museum

, to the fabulous San Francisco Museum of Modern Art
, where you'll find the work of Ansel Adams - the God of photography
.

The other side of the Golden Gate Bridge, the town of Sausalito merits a visit for its waterfront views and the beautiful Giant Redwood trees one of which is 252 feet tall and one 14 feet wide. Most of these trees range in age of 800-1000 years old!
Oakland is on the other side of the Bay Bridge. Check out the First and Last Chance Saloon which has a ceilingful of nautical and pioneer tchotchkes, this landmark is specially important cos of the sl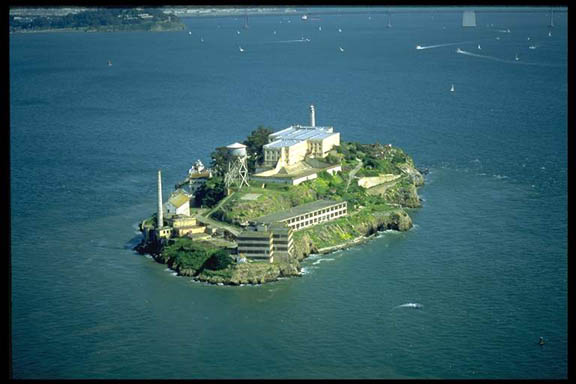 oping floor which was caused by the earthquake of 1906.
You must visit Alcatraz Island which offers a close look at an infamous prison. you can actually check out the cells and stuff (thats where Al Capone was imprisoned!!) .. even the jails there have their own sites !!
Compared to the 5 ppl who read this (other than anand of course) im quite the wine connoisseur.
And so i know that while everybody raves about Napa valley .. the real stuff is in Sonoma valley .. which has many vineyards and is less "touristy".
Then there is Haight Street where the whole concept of free love was preached and practised in the flower power 60s.. u can still find pot very easily here !! And then there is the most crookedest street in the world which twists and turns at every step .. here is the Lombard!!
There are many things which make SF better than many other cities (excepting Bombay of course) -- ex. Each year San Francisco celebrates St. Stupid's day.

A place that seems to combine shopping and eating (my 2 passions) is the Ferry Building which is a marketplace with several farmer's markets, great food shops, and eating places. u also get funny and really
obscure knick knacks around fisherman's wharf ...
As far as the food is concerned .. everywhere i researched for this city i found some reference to the Dundeness Crabs ... so here they .. veggie friends plz dont get offended cos i get easily yummed by non-veg treats :) .. hey andoo ... dont it look yummmmmmm??